Yuuzhan'rarr, born Rarr Jamaane, was the Supreme Overlord of the First Yuuzhan Vong Empire from 10 BBY to 10 ABY. He grew up as a nobleman of the Intendant Caste, and he became a member of the Yuuzhan'tar Council at a very young age. He was known to have worked with many Sith, including Derech Palpatine, Darth Ominous, and Darth Sidious, for he had a tolerance for the Force not shared by many members of his species. He prophesied falsely that the dark side of the Force was a manifestation of the life-bringing powers of the god Yun-Yuuzhan and manipulated the Yuuzhan Vong religion to be more Force-accepting. He did not actually believe in the Vong gods, rather, he used the Vong religion to his advantage, as Supreme Overlord, he was claimed to be a "Mortal Son of the Gods" and was said to be a prophet. To further manipulate the religion, he took the title of Most High Priest, along with all his other titles. Early on, he told the Vong a "prophecy" he had had that forced them to accept the Sith into their lives.
Yuuzhan'rarr was also known as a "warrior king," as he often went on missions by himself, and had the title of Warmaster, as well as Supreme Overlord and Most High Priest. This led to his death in 10 ABY, when he charged into battle against Mara Jade and Ferus Olin.
Biography
Early life
Rarr Jamaane was born on Zonama Sekot in 30 BBY. He was born to two high-ranking members of the Intendant caste, which was the caste that controlled the government of the Yuuzhan'tar Emirate.
Career
Council member
In 15 BBY, Jamaane was inducted into the Yuuzhan'tar Council, the ruling body of the Yuuzhan'tar Emirate. The Emirate was a council–run communist government made up of Yuuzhan Vong refugees who escaped from Yuuzhan'tar after its destruction—based on the planet Zonama Sekot. At this time, the Council was debating what to do about the issue of the Galactic Empire.
Five years into his council service, he became the chair of the council, once the rest of the members were assassinated. After Rarr's death many years later, it was confirmed that they were, in fact, killed by him and the killings were assisted by mercenaries that he had hired. When three of his fellow council members had been murdered, Jamaane had himself shot in the leg with a faulty poison dart, during his father's funeral, whom he had also killed. This stunt was to make it look as if he was also a target of the assassinations. Upon becoming chair of the council, Jamaane proposed the idea to tie the Emirate with its Purse Worlds into an empire, with him as the Supreme Leader. The council voted and it was decided to move forward with the proposal.
Supreme Overlord
Renamed Yuuzhan'rarr, which meant Supreme Overlord Rarr, he embarked to unite the Purse Worlds under one banner. He found this task to be a challenge, because each had its own government. Rarr led the fighting to unite these worlds, taking the title of Warmaster, along with Supreme Overlord. From the day he started his education, the idea of the dark side of the Force and the powers it could bestow on someone overwhelmed him.
Using his influence as Supreme Overlord, Rarr chose to make false prophecies that the Sith were not the enemies of the Vong and that the Force was the essence of the god Yuuzhan'tar. These proclamations earned him the title of Most High Priest. This allowed him to unite the Vong Empire with the Imperial Remnant in a military alliance, with little protest.
Tatooine
In 6 ABY, Rarr met with the Emperor of the Imperial Remnant, Derech Palpatine, on the neutral planet Tatooine, to discuss a military alliance between the Remnant and the Yuuzhan Vong. Yuuzhan'rarr agreed, as long as the Imperial planet Kamino—with its cloning technology—would be handed over to the Vong. Once Derech had agreed to these terms, both sides walked away satisfied with the results. The Vong used Kamino to create a cloned army to use against the New Republic, using the accelerated cloning process pioneered by Darth Vader on his former apprentice, Starkiller, during the Galactic Civil War.
Battle of New Alderaan
In mid 6 ABY, Vong-Imperial Alliance forces attacked New Alderaan, sparking the First Yuuzhan Vong War. Yuuzhan'rarr led his own troops into battle, fighting with the Tristaff alongside Derech Palpatine. At one point in the battle, while he and Derech were fighting beside each other, Jedi Commander Ferus Olin engaged Derech in a lightsaber duel. In the midst of this, Rarr came up behind Derech and stabbed him in the back. The fact that it happened while dueling Ferus made it look like Ferus killed him. Thus, Rarr rid himself of a potential political enemy in his quest for power, and framed a Jedi in the process.
In the ensuing events, New Alderaan was captured, and Rarr rebuilt the Aldera Palace in Sanaestan, formerly the capital of New Aldera. From the Aldera Palace, he commanded an Empire that rivaled the New Republic.
Yuuzhan Vong hostage crisis
In late 6 ABY, Yuuzhan'rarr, as well as new Sith Lord Darth Ominous attacked the Jedi Temple on Coruscant. They kidnapped 10 Jedi, including 3 members of the Jedi council.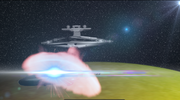 Boarding a shuttle orbiting Coruscant, Ominous and Rarr made off with the prisoners, closely pursued by Jedi Ferus Olin, and his Padawan, Anakin Kenobi. Captured by the Jedi near the outskirts of the Zonama Sekot system, he and Ominous escaped after a fleet of Yuuzhan Vong ships attacked Olin's small fleet of Interdictor-class Star Destroyers. He then commandeered Vong forces during the Battle of Zonama Sekot, withdrawing to darkspace only once his whole fleet had been decimated.
Mission to Teardrop
In 10 ABY, Yuzhan'rarr, and the newly-resurrected Palpatine, the former Galactic Emperor and father of Derech who had died during the Battle of Endor, led a small squad of Vong fighters to the Republic outpost on the planet Teardrop. During the battle, Jedi Knight Mara Jade was taken prisoner, and transferred to New Alderaan afterward.
Death
«I… I never believed» ―Yuuzhan'rarr, to his successor, Shimrra Jamaane, as the former lay dying
Later that year, Ferus Olin broke Mara Jade out of prison on New Alderaan. On the run, they ran to rendezvous with their troops in Sanaestan's central square, but Palpatine and Rarr were already there. Charging into battle, Rarr was stabbed through the chest. As he lay dying, he told his son and successor, Shimrra Jammane, that his prophecies about the Sith had been fake, and that he never believed them. Rarr expected forgiveness, but an outraged Shimrra cut off his father's head.
Once Jamaane learned of his father's treachery, he turned on Palpatine, and stopped fighting off New Republic forces. Vong War Academy analysts determined that this was the move that caused the Vong to lose the war, as it let New Republic forces break through to Palpatine and stop Palpatine's plan to use a Force Portal to smash Coruscant into New Alderaan—a move that would have allowed the Vong to win the war.
Legacy
Yuuzhan'rarr built an Empire that, even after his death, stayed together loosely, even though it was not formally reformed until 25 ABY, under the newly–christened Yuuzhan'shimrra, his son Shimrra. Shimrra rebuilt an Empire even larger than that of his father and launched a war against the New Republic that he came closer to winning than his father did. Yuzhan'rarr's name was erased from Vong records as an Overlord, and he was remembered by his own people as a traitor.
Personality and traits
Jedi analysts, trying to find out how the war was won to teach future students, found that Rarr's undoing was his tendency for being a warrior king, as he was so eager for battle he charged into it against two Jedi, namely Ferus Olin and Mara Jade. He was also one who would do anything for his own well being, including fooling an entire Empire into thinking that his prophecies were true, and killing Derech Palpatine.
After her experience as his prisoner, Mara Jade thought of him as a sadist, because he found pleasure in torturing her.
Powers and abilities
Yuuzhan'rarr demonstrated his abilities as a warrior and a pilot in Battle of New Alderaan, taking out many Republic targets himself. He was able to manipulate people by lying convincingly, and using false prophecy. His ability at this was demonstrated in the fact that he was able to convince an entire Empire that the dark side was their god's essence. He commonly showed his skill with the tristaff while participating in the Vong's Holy Gladiatorial events, but never excelled at marksmanship.
Relationships
Shimrra Jamaane
Shimrra: Father, They have launched the StarFighters
Rarr: The Jedi?
Shimrra: Our scanners show that the Weak one has launched, but his Master is still on board.
Rarr: Good, my son...
―Yuuzhan'rarr to his son, Shimmra, during the Battle of Zonama Sekot[src]
Yuuzhan'rarr thought of his son Shimrra as his servant and until Rarr's death, Shimrra agreed with that point of view. Rarr was affectionate for his son, and rewarded him when he did his various jobs—such as assistant warmaster or chief tactical officer—well. Once Rarr admitted to being an infidel, Shimrra, who had always put the gods in front of everything as his father had taught him, instantly killed Rarr and stopped following his wishes. Jedi analysts afterward pinpointed this as the cause of their victory in the First Yuuzhan Vong War.
Behind the scenes
Yuuzhan'rarr was created by VideoGamePower as a character for Star Wars Tales of the Amplifier: The Ominous Encounter. He was originally a general who had more brawn than brains, so he was given a short, one-syllable name that even he could pronounce ("Rarr"). Eventually, his character developed into a smarter Supreme Overlord, but the name stuck. He was given the prefix "Yuuzhan'" meaning Supreme Overlord in Vongese, once he was developed into the Overlord of his final character. He was given the surname Jamaane because the next Supreme Overlord—who is canonical—was named Shimrra Jamaane, and Rarr was meant to be his father.
Community content is available under
CC-BY-SA
unless otherwise noted.