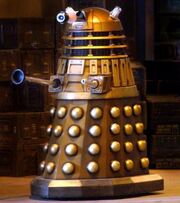 EXTERMINATE! EXTERMINATE! EXTERMINATE! EXTERMINATE GERMS!
—A TC-6
The WI TC-6 bathroom maintenance droid was a cleaning and menial labor droid designed by Tryuin Industries during its control by Gasrany Kiebel. It was notable for its unusual design; it lacked legs and instead hovered, and was equipped with a plunger and extendable toilet brush. As its name suggested, it was designed for use in bathrooms and toilets, and was often used by species with exceptionally dirty toilets such as Wookiees. Due to its popularity and cheap availability, it was around hundreds of years after its introduction during the Galactic Civil War.
Community content is available under
CC-BY-SA
unless otherwise noted.