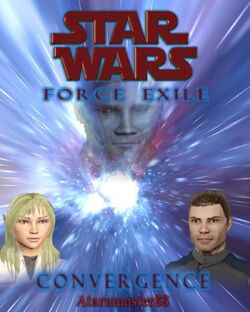 Hard to believe it, but thirteen years have gone by since I first started contributing to this wiki. While the initial drafts of what became Force Exile I: Fugitive were written before then, it's as good a date as any to call April 29 the anniversary of the series. The other uncomfortable reality is that it's been thirteen years and I have yet to finish it, but on that front, there's definitely light at the end of the tunnel!
On April 29, I will be releasing a number of new items to mark the occasion. The first and greatest amount of effort is finishing The Essential Guide to Force Exile. I may need to go back and edit a few things here or there as I develop backstories. However, this last set of entries will mark the completion of this reference work, with 135 unique (and spoiler-filled!) entries ranging from planets to starships to characters and more. Over the next couple of days, I will be finishing entries for the last group of 7 planets and moons, most of which are canonical, but with a couple of new ones as well.
Additionally, this will be a good occasion to release more Convergence with another 10 chapter upload. Convergence is set hundreds of years after the main series, so those unfamiliar with my writing will have no issues joining the story here. While knowledge of prior events is helpful in reading it, some of the twists are less obvious if you don't know already. I have finished writing up to Chapter 43, but my progress on the year has been rather slow. I think with The Essential Guide done, I will be more able to focus on the story, and the plot is at the point where the pace will quicken a bit, which will speed writing along. Honestly, the most encouraging thing for writing the story has been my wife's interest in it, as well as reading some of the other high quality works here from MPK and Sakaros.
I have one last piece to feature on this thirteenth anniversary of the series: the cover for Convergence. Sadly, the cover artist for the rest of the series, Solus, is no longer active and I haven't heard from her since 2013. My wife and I made the cover for Convergence and while I don't think it's quite the same caliber as Solus's, I'm very excited to show it off.
Grab a party hat and a noisemaker—in the mean time, I better get back to writing if I'm going to deliver all this stuff!
Community content is available under
CC-BY-SA
unless otherwise noted.