"I kinda figured since I'm terribly brilliant" – SavageOpress1138, 2016
—
Firedance
doing an impression of Savage
Hello <insert name here>, I am SavageOpress1138, but you can call me Savage or Sav. Although I love the original trilogy (but don't care for the prequels), I'm even more of a Knights of the Old Republic fan. I came to this site in 2011, and I've been a "longtime visitor" ever since.
On February 8, 2012, I was granted rollback rights, on June 2, 2012 I became an admin, and on November 8, 2015 I was promoted to bureaucrat. I served as an admin and bureaucrat for over five years before I stepped down from the positions on January 15, 2021.
If you need to contact me, you're always welcome to leave me a message, or you will occasionally find me on our Discord (where I go by Sav1138). If you need immediate assistance, I suggest you reach out to a member of the admin team.
Admin Philosophy
Swfanon adminship is like jail.
—
ITCO
Although I am no longer a member of the admin team, I have preserved my thoughts from when I was an administrator here.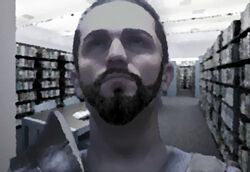 While it might seem like Savage and TK are out to ruin your personal vision of Star Wars, I can assure you that this is not the case.
—
Goodwood
Fear not, for I have no intention of ruining your personal Star Wars vision. Here on Star Wars Fanon, I am an admin, so I try and help out as much as possible. This means that you may see me editing one of your pages. If that is the case, I was probably correcting a spelling or grammar issue, or I was formatting it to fit with our article guidelines and other policies. If you believe I have made an edit impermissible by our editing policy, please leave me a message and I will try to explain why it is allowed, or if I was wrong I will revert the edit and give you my sincerest apologies.
Being an administrator doesn't mean I'm better than you. All it means is that I have a few extra buttons and tool I can use. I, as well as other users, will also give out as much help as possible, but in some cases there will still be the need for official warning, and in extreme cases, blocks. That's something I will do when necessary, but I'd much rather talk through issues and/or questions with a user on their talk page, or on the wiki chat or the IRC channel. Always remember that all users are equal, and being an administrator does not make me any better than you.
Awards
Never write anything for the sake of popularity or awards. Write what you want because you want to.
—
Ataru
Here is a list of the awards I, or my articles, have received. However, when writing your own articles and fan-fiction, remember the above quote. I wrote all of these because I wanted to, the awards came much later.
Articles
<Jules>: "My name is Savage Opress. I am the most creative being alive. And I love THK-1138."
<Savage1138>: "*THX. Fail." ―Response to \Savage1138.
So what have I done? Here's a list of all the most creative my works.
A New Dawn
These are articles related to A New Dawn:
Categories
I have also created a few categories.
Signature
Here is my custom signature. If you see that on any talk pages, voting pages, or anywhere else, know that I've been there.
Sav1138