The user Sakaros has based the majority of his page creations off experience in Star Wars chat room RPGs, and took his user name from the surname of his favorite character, Tak Sakaros.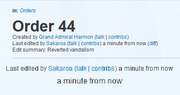 Sakaros is a Bureaucrat and is happy to help new users! Sakaros possesses particular knowledge about the sometimes-dauntingly complex Image Policy, and wrote this tutorial to help others with it. If you have a question, please don't hesitate to ask.




Creations
I started Star Wars RP all the way back in 1999, when The Phantom Menace came out. Since then, it's been an off-and-on hobby, and I've been blessed with a number of prodigiously talented writing partners, without whom I never could have created all the things I have.
For the past couple years, Fermata13, Jade-Starrz, and I have been working on a series of articles about the Golden Empire. What started as only 100 articles or so has blossomed into 600+, not including image files, plus another dozen or so edits to existing articles. Because our creativity tends to run free whenever we give it any slack in the leash at all, and because the course of writing an article tends to produce more related articles to be written and result in more on the to-do list when the first one is done than there were when we started, we've all "affectionately" nicknamed this gargantuan series of articles "the Hydra".
New Sith Wars

Characters

Jedi

Sith and Dark Jedi

Republic Personnel

The Brotherhood of Shadows

Droids

Criminals

Others

Organizations

Events

Vessels

Locations

Miscellanea

Outside and before the Empire

Characters

Species

Ships

Planets and moons

Conflicts

Sith culture

Family pages

Lightsabers

Crime

Other

The Golden Empire

Government

Government positions

Governmental bodies

Law and Order

Foreign powers

Military

Glorious Armada of the Golden Empire

Ranks

Training

Units

Fleets

Decorations

Miscellaneous

Characters

Centurions and Novices

Military personnel

Other government personnel

Enemies of the Empire

Miscellaneous

Droids

Families

Groups

Species

Sentient

Other

Flora

Astrography

Sectors

Systems

Planets

Moons

Cities

Other locations

Culture

Languages

Works and artists

Religion

Craft

Starship classes

Individual craft

Ground craft

Weapons

Conflicts

(arranged chronologically)

Corporations and production

Organizational pages

Force powers

Lightsaber combat

Miscellaneous
Or see them all in alphabetical order here.
I used to dabble in writing fan fiction on occasion, usually because I came up with some backstory idea in RP or fanon articles that I wanted to flesh out fully, but the Untitled New Sith Wars series has become an enormous monster over the past years.
Favorites in the Star Wars universe
Character theme songs
For a long while now, I've come to associate various songs with my characters and the characters who interact with them. This is the list.
The galaxy template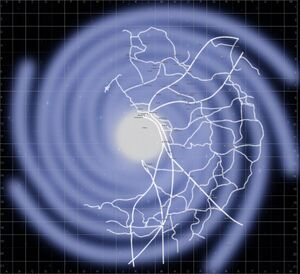 Since there's been some interest, I've uploaded the image to the right. It's a "canon-friendly" image of the Star Wars galaxy; all of the planets pictured are canon planets (at least pre-Legends), and they're all placed as accurately as possible.
Anyone may use this image, subject to the following restrictions:
You must have a registered account on Wikia. No "A Fandom user"s.
You may only use the image on SWFanon. No use on any other sites.
You may use portions of the image or the whole thing (for example, you want to zoom in on galactic east to make your own maps of Hutt Space). However, you must still credit me as below in Rule 4.
You may modify the image to your heart's content (add planets, remove planets, add highlighting, change colors, whatever). No change is too little or too much. However, you must credit me as the original artist. In the "Source" section of the image information, something like
User-made

*This image used [[:File:Galaxy template.png|this stock image]] of the ''Star Wars'' galaxy created by [[User:Sakaros]]
would be fine.
I reserve the right to specifically deny people who break the rules.
I deliberately stuck all the planet templates up in B2 so it would be easy to change; just fill in all the templates and the background with black when your image is done.
And that's it. You don't need to notify me if you use the image, but if you come up with something particularly creative, feel free to drop a message on my talk page so I can see it. Happy mapping.
External links
www.chatfirst.com - Where it all started
www.wix.com/fermata13/narshaddaa - Where it went after that