Sakaros debuted a new series set during the New Sith Wars on May 5, 2017. It begins with the short story "The Price of Knighthood" and follows the careers of Jedi Tirien Kal-Di and Narasi Rican and Sith Alecto through the conflict.
Statistics on the UNSWS may be found here.
Opening Crawl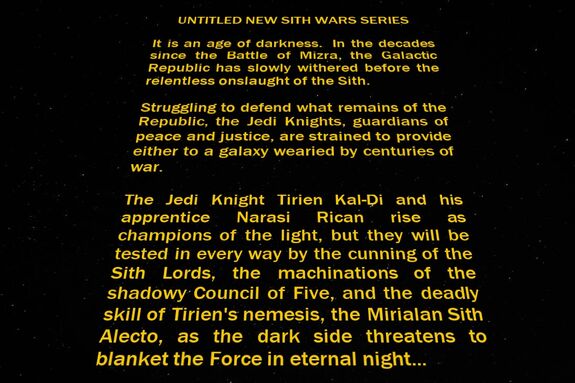 Segments
Appearances

No. I am your father!
Warning! This page contains MAJOR spoilers from a recently released or soon-to-be-released product. Caution is advised.
Characters
Dramatis personae
Other characters
Creatures
Droid models
Events
Locations
Organizations and titles
Sentient species
Vehicles and vessels
Weapons and technology
Miscellanea
Behind the Scenes
The Untitled New Sith Wars series is set within the Star Wars Legends continuity, but imports select elements of Disney canon, such as Slejux Nissatak's Melitto species, and takes a "broad strokes" approach to some Legends matters, such as Star Wars: The Old Republic.
Community content is available under
CC-BY-SA
unless otherwise noted.