Inside this section, you will information on the various people that affected the Yanibar refuge and its founders. They were a diverse group, and this work seeks to be equally diverse in its selections, moving beyond the Kraen family—as admittedly influential as they were—to cover dozens of key figures from that era.
Author's note: Organizational icons have been provided to help readers avoid spoilers and find information about topics they are interested in. The icons correspond to the six Force Exile novels, as well as the Yanibar Tales and the Yanibar Guard Sourcebook
Entries
Atollias



Atollias was a remote world deep within Wild Space. Hidden inside of a nebula, the world was unremarkable, a barren rocky orb like millions of others within the galaxy. With only the barest wisps of atmosphere there, a thin mix of methane, nitrogen, and hydrogen, the world was generally inhospitable to life. However, hidden beneath the surface and a powerful concealing Force illusion, Atollias held a Force nexus. Read more…
Bespin
Bespin was a gas giant located in the Outer Rim. The planet was known for its rich deposits of Tibanna gas and orbital cities which refined and processed the valuable material. Despite its gaseous nature, Bespin also had a habitable zone where the orbital cities were constructed, as well as numerous native fauna. Read more…
Commenor
Commenor was a world in the Colonies known as a center of trade and commerce. The planet had a favorable climate for humanoid life and was settled largely by Humans before the Republic was even formed. Commenor eventually joined the Republic and remained a prominent world through the Republic's existence and was subsumed into the Empire. Commenor played a prominent role in the Force exile refuge as two of its founders, Sarth and Selu Kraen, were born there. Read more…
Coruscant
Coruscant was a Core World considered the center of galactic civilization for millennia. The world was the capital of the Galactic Republic, Galactic Empire, and many other states. An ecumenopolis, little of Coruscant's surface remained under thousands of layers of cityscape. Trillions of people lived on Coruscant and its place as the seat of governmental power made it known through the ages. Read more…
Jebuan



The Jebuan system was a barely-habitable world deep in Wild Space, far from any known civilization. No sentient life lived there, and its harsh and extended day/night cycle, as well as numerous allergens, predators, and insects made it hostile to most humanoid. The planet was named after a Rodian captain and a Sullustan engineer who crashed her ship there in 49 BBY. Both perished in the landing, but their two surviving crewmembers were eventually rescued and named the planet after their fallen companions. Read more…
Rishi


Located near the fringes of the galaxy and near one of the few entry points to the Rishi Maze, the valleys and mountains of Rishi nevertheless participated in many cataclysmic galactic events. The tropical Outer Rim world was contested many times throughout history, including during the Galactic War, the Clone Wars, and the Yuuzhan Vong War. Read more…
Saraswan

Saraswan was a world in Outer Rim and one of many moderately-populated habitable worlds that eked out an existence far from the Galactic Center. When it was taken over by an ex-Imperial warlord named Ornall fleeing the ravages of the Galactic Civil War, the Force exiles of Yanibar led a campaign to overthrow him after he captured their diplomatic delegation. Read more…
Yanibar
A harsh, barely habitable world on the edge of Wild Space, Yanibar was both remote and ill-suited for settlement. Afflicted with tempestuous weather that often swung from extreme to extreme, the planet's conditions were unforgiving and challenging. Yet these same qualities made it a hidden refuge, first for the Zeison Sha unintentionally stranded there, and later for a group of Force exiles fleeing the Empire. Read more…
Zeru Neimoidia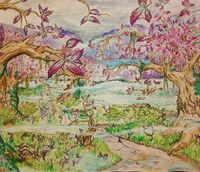 Zeru Neimoidia was a purse world of the Neimoidians and one of the most outlying worlds designated as a purse-world by that species. The planet's equatorial zone was humid and thickly-forested, making it an ideal place for the establishment of Neimoidian communal hives. Unlike the other purse-worlds, which were stocked with vast treasures and opulent palaces, Zeru Neimoidia was undeveloped, its existence kept as a military secret. It was more than a year after the Clone Wars started the Empire even learned of its existence, which led to a pacification campaign being launched to quell a group of Separatist holdouts on that planet. Read more…
Community content is available under
CC-BY-SA
unless otherwise noted.