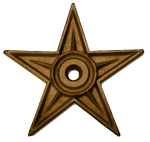 User of the Month is an award given to those users who have demonstrated an outstanding commitment and helpfulness to the Star Wars Fanon wiki. A good candidate should be helpful in the community by participating in article writing, community events, and good and featured article voting. They should also demonstrate a helpfulness that goes above and beyond what would normally be expected for a user, and they should try to help guide new users into becoming active community members. Users of the Month are meant to be the best examples of what our wiki has to offer.
---
Nomination process:
There is a simple process that all candidates go through in order to be selected as a User of the Month. That process is as follows:
Any user may nominate any user other than themselves. They may also nominate as many users as they want, though they may only vote for one per month.
However, users may not be chosen as a User of the Month if they have previously won the award in the last six (6) months. Even so, strive to nominate people who have not won before.
Users will either support or oppose the candidates. Users must provide a reason for voting against a candidate. Users must meet the requirements of the voting policy to vote.
At the end of each month, the candidate with the most votes will be that month's winner. All candidates will be removed from the nominations page and archived.
Users who are not successfully chosen as User of the Month that month may be re-nominated at any time.
---
How to nominate:
When you nominate a user, please use the following nomination form in order to maintain a sense of organization on the nominations track:
===Candidate's name===
====Support (#)====
====Neutral====
====Oppose====
====Comments====
Candidates will remain on the nominations track until the end of the month, unless the nominee removes him or herself before then. The candidate with the most votes will be the User of the Month. All nominees from that month will be added to the archive.
From July 2007 to February 2013, Star Wars Fanon featured a User of the Month meant to highlight a user who had been helpful to the community. The user would be featured on the main page for the following month, meant to be an example of the best that Star Wars Fanon had to offer for new users to emulate and seek out for help.
As of August 2013, Star Wars Fanon no longer featured a User of the Month. There had been several stretches of increasing duration without a new UOTM, and many of the recent users had been repeated. All Users of the Month may be viewed in the archive.
Community content is available under
CC-BY-SA
unless otherwise noted.