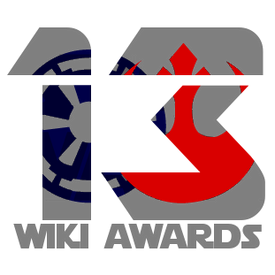 Welcome to the Thirteenth Annual Star Wars Fanon Wiki Awards!
This year's Wiki Awards will be proudly hosted by Boomdodger, and co-hosted by Knight of Malta!
The Wiki Awards serve as a way for the greater community of active users to come together and honor the best fanon and fan fiction stories Star Wars Fanon has to offer through a simple nomination and voting procedure. This year will introduce a slightly different system, featuring a two-stage voting procedure to determine the winner of the Overall Best Article Award.
To get involved, simply nominate and vote for your favorite fanon and fan fiction. You can nominate your own pages, or nominate those written by your fellow authors and content creators. We're here to showcase the best of the best, and you can help the community decide what will win.
Schedule
The schedule for the Thirteenth Wiki Awards are as follows:
Nomination period: April 16, 2018—May 7, 2018
Voting, Stage One: May 8, 2018—May 26, 2018
Stage One Tiebreaker: May 27, 2018
Stage One Awards Presentation: May 27/28, 2018
Voting, Stage Two[1]: May 28, 2018—June 2, 2018
Stage Two Tiebreaker: June 3, 2018
Stage Two Award Presentation: June 3/4, 2018
↑ The second stage of voting will take place to determine the winner of a single, grander award: the Best Overall Article Award. This award will be voted for among the winners of the first stage's categories. As clarification, those awards will still be presented normally; the first voting stage is the exact same as how the Awards have operated in previous years. If you have any questions, please ask the host or co-host for further clarification.
Rules
These rules will be enforced by Boomdodger and Knight of Malta. Please familiarize yourself with them.
Any confirmed Wikia users with mainspace edits may nominate an article of their choosing for an appropriate award. This includes nominating your own work.

Sockpuppetry is not allowed. This is defined as one person using more than one account. Our sockpuppet guidelines forbid the use of multiple accounts on this wiki. The Wikia CheckUser tool may be employed to enforce this policy.

To nominate, simply use the following format beneath the appropriate heading:

*[[ARTICLE]] by [[User:AUTHOR|AUTHOR]]

No author is allowed to have more than three of their own articles nominated in a given category.
Winning articles or fiction works from prior Wiki Awards may be renominated at will without threat of disqualification.
All entries must follow the content policy.
You may nominate any article in any category.

You do not need to be the author of a nominated article, but you are permitted to be the author as well. However, each author is only allowed up to three articles per category. That includes articles nominated by others.
You cannot nominate four articles by another user, nor may another user nominate four articles by you. Furthermore, any combination of users (including yourself) may not nominate more than three articles by any particular user. This is all on a per category basis.

You may not vote for articles that you authored or co-authored.

This also applies for the Best Overall Article Award voting.
Awards
Users with winning articles are permitted to use the following userbox if desired.
Nominations
Best Light-side Character

Best Dark-side Character

Best Non-Force User

Best Planet

Best Organization

Best Vehicle/Vessel

Best Event

Best Miscellaneous

Best Fan Fiction

Best Fan Art

Best Author
Voting
Stage One:
Stage Two:
Winners
Best Overall Article
Community content is available under
CC-BY-SA
unless otherwise noted.