The following discussion is preserved as an archive of a featured work nomination that was unsuccessful. Please do not modify it.
Nominated by: Joev14 (Talk) 15:09, August 21, 2012 (UTC)
Excerpt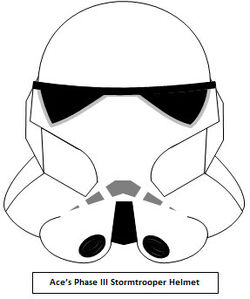 Another stormtrooper came into the room and yelled at Ace, "Hey dimwit, quit daydreaming about geonosians and do something useful!"
Ace rolled his eyes and walked out of the room.
Oh, and that was another thing that happened when I became an Imperial Trooper; we got a replacement for Circuit. I still remember the day Ice walked into the room three years ago, like it was yesterday.
Ice walked into the room with his head held high, his short blonde hair spiked up, and his mouth curled up in a prideful sneer like he owned the whole ship. His tone matched his face perfectly, "Ugh. Figures I'd end up on a team with all clones."
He walked over to Greeneye and stared down at him disapprovingly, "What the heck is wrong with your eyes?"
Greeneye looked at him and said calmly, "I have a defect that makes them green."
Ice began to laugh and say, "Ha, you look ridiculous."
Greeneye looked hurt and said, "No I don't!"
Ice pushed Greeneye, almost knocking him over, it was then that I decided to step in. "Hey, back off pal, we're all on the same side."
Ice came stomping over to me, and pushed his chest up against mine, towering over me by about 3 inches, and then said, "And who put you in charge, huh?"
I didn't like his attitude at all, but I held my temper as I said, "Lieutenant Keeli did."
I was shocked when Ice didn't even seem the slight bit intimidated, and said, "Well, if you haven't noticed, Keeli isn't here, so why don't you back off, shorty?"
I stood on my tiptoes, putting me almost nose-to-nose with him, and was disappointed when we were interrupted by an Imperial Officer who came into the room, saying to me, "CT-29-5590, I have a mission for you and your team."
Support (0 Archivists/0 Users/0 Total)
I'm for it. I think its great, if not one of the best fanfics I've read in my time. Shadow-45 (Talk) 18:00, August 22, 2012 (UTC)
Striking vote, as the user does not have the 100 mainspace edits as required by the voting policy. Feel free to vote again when you have 100 mainspace edits! You can track your edits here. - Brandon Rhea(talk) 18:35, August 22, 2012 (UTC)
Objections
Grammar Shadow-45 (Talk) 18:02, August 22, 2012 (UTC)

Hey Shadow. To give someone a helpful featured work review, you should point out all instances of where their grammar needs to be improved. Otherwise, just telling someone "Grammar" isn't very helpful. Thanks! - Brandon Rhea(talk) 18:35, August 22, 2012 (UTC)

From the decisive desk of Atarumaster88

Unfortunately, I do have to echo Shadow's objection from above. This work has a lot of pervasive grammar errors. I'll note the most common ones below.

Be consistent with how you treat the capitalization of species names. In general, sentient species tend to be capitalized (e.g. Geonosian) and non-sentient species (e.g. wampa) tend not to be. The work is not consistent.

The capitalization between proper and common nouns is shoddy. Words like "plasma," "hut," and "grenade" should not be capitalized, whereas a proper noun like, say "SoroSuub T-45 Plasma Grenade" would be capitalized.

Fixed Joev14, Respect the Green (Talk)

Paragraph breaks need to be used much more liberally.
Ship names and ship class names (e.g. Thrush) should be italicized.

I originally did have them italicized, but when I copied it over to the site, none of the bold/italics stayed. Manually fixed Joev14, Respect the Green (Talk)

There's no BTS, and very minimal adherence to the Manual of Style. I'm not a stickler for the MOS by any stretch of the imagination, but at the very least, the actual story should be on a subpage.
The central character is a Gary Stu. The worst offending incidents are when the Jedi inexplicably chooses to talk to him in the middle of a firefight, and then when he just decides to not fire at Luke Skywalker on Hoth.
The pacing in this story is lacking. It's disjointed and each major event in the chapter doesn't transition well to the next one.
There's some very inconsistent characterization here, especially how "Ace" keeps inexplicably feeling sympathetic to the Rebel Alliance one minute and then gunning them down a paragraph or two later.
The shifting perspective does not help either. It shifts from first person to third person randomly and I'm not a fan at all of that. The story reads like an odd cross of a personal journal and an encyclopedia article about the events described wherein. Suffice to say it doesn't work.

This is due to me pausing to take a break from writing, and coming back later, and forgetting which one I'm in. This is something I plan on fixing, though I'm not sure when since it would be a serious amount of work to undertake.

There are other objections that could be listed, but that's a fairly comprehensive list for now.
Atarumaster88

(Talk page) 21:13, August 24, 2012 (UTC)
4. Per Ataru really, I think the grammar needs some work, and not to say that I didn't enjoy the story, but the changing in perspectives can get quite confusing and like Ataru said, the central character is quite Gary Stu-ish, which is something I have been guilty of in my works and keep having to tell myself not to do it, don't take what I've said as a criticism, but rather as something constructive --DK Wolf 27

Holonet Channel 15:22, August 28, 2012 (UTC)
Archivist Vote to Remove Nomination
This has been inactive for a long time, and in its current state, has no real chance of achieving FW status without a thorough rewrite. Atarumaster88 (

Talk page

) 21:41, January 31, 2013 (UTC)
By the looks of the objections and the time dated, it doesn't look like this is going anywhere. -Solus Talk to the Hand 16:37, February 8, 2013 (UTC)
Le sigh. GoodwoodDebating Society12,018 Edits 05:02, February 14, 2013 (UTC)
Comments
I'm not going to give this a review like I normally do, for two reasons. The first is that I don't like to post almost completely negative reviews for newer users, and second, it wouldn't be productive. Instead, let me address some basic tips and suggestions to the author.
Joev14, if you want to develop your work's quality better, here's my suggestions for you.
Ask yourself if you want to write a narrative (novel, short story, etc.) or an article. Right now, your work reads like it can't decide. If the answer is article, stop reading now and go look at SWF:FA for ideas. If the answer is narrative, keep reading.
Decide what perspective you want to write from. If you want to write solely from Ace's point of view, do it. If you want to use the standard 3rd-person-omniscient perspective, do it. But don't switch between the two—it does not usually help the work to do so.
Pick out your central plot idea. What is it? Is it that Ace finds his way to leave the Empire after he meets Seguri? Is it Ace's personal conflict with Ice? You can have smaller subplots too, but it's better to keep it simple, or you end up with fifteen plot arcs that take forever to resolve. It's entirely possible to write a good story without a central conflict, but those are in the extreme minority AND they are a lot harder to do well. Trust me on this, find a central plot.
Now that you've got your central conflict, decide what characters are needed. You'll want your protagonist, probably Ace, and then you'll need some people for him to interact with. You might need an antagonist who gets in the way of resolving the central conflict.
If it helps you, create an outline of each scene, along with what happens in the scene and who's in it, if your mind works better with the story preplanned. Mine does, other people's don't.
Outline or not, once you've got the basics down, you can start writing your story. Some tips for writing the actual story are to make sure to describe the location/environment of any place that's going to be important, to write your dialogue as if you were the character and not yourself, and to allow the reader to see inside your character (especially the protagonist) and know their thoughts if the thoughts they're having are relevant to the plot/subplots.
I'm not writing these tips to say "Here's the only way to write a good fanfic" or even "Here's a way that will let you write a good fanfic." It's possible to write a good fanfic without following a single one of these tips. It's possible to strictly follow everything I wrote and come up with a terrible work. This is far from the only way to write a story, but I provided them to help with a general process to follow since you seem newer at this. However, right now, in my opinion as an Archivist, this work is not worthy of FW status without a complete rewrite and I'm not going to torture us both by dragging out the nomination process with false hope of anything else. Feel free to keep writing your stories as you want to, but there is a certain quality standard expected for FWs and this submission does not meet it. Part of growing as a writer is being able to take, learn from, and grow through criticism—ask any of the other experienced writers about this. Keep writing, keep exploring the Star Wars galaxy as you see fit, and don't be discouraged when you run into the occasional setback or obstacle. Atarumaster88

(Talk page) 21:29, August 24, 2012 (UTC)
Community content is available under
CC-BY-SA
unless otherwise noted.