The following discussion is preserved as an archive of a featured work nomination that was unsuccessful. Please do not modify it.
Nominated by: Joev14
Author's Note
I consider this book to be a novelette in style of writing, although it technically falls short of that in number of words and might be considered a short story. Enjoy reading, I feel I've come a long way since I last posted work. As for it's length, I prefer writing shorter stories that are part of a larger storyline. I often find myself getting bored if a book runs on for too long without having some sort of ending, and I don't want my readers to feel the same way when they read mine.
Excerpt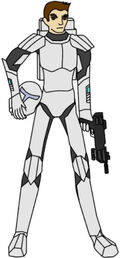 We entered the armory, and I scanned the room to make sure it was clear. After the other three clones had entered, I turned and shot the control panel; it would buy us a little time.
I looked around the room again and said, "Blast, they must've put our Katarn armor somewhere else."
Another one of the clones spoke up, "Verd ori'shya beskar'gam. A warrior is more than his armor."
A second clone replied, "But sometimes armor comes in handy, Hett. You know, for keeping you alive."
The third one spoke up, "I'm happy so long as I've got something to kill, and something to kill with, Cap." He grabbed an E-5 blaster off a rack on the wall, and lined up the sights, aiming at the entrance.
I glanced at the one who had been called Cap, and said, "When the guards enter this room, Mr. Trigger Happy and I will hold them off. You and Hett get to the door and head for the hangar; it's down the hallway to the right. Once the focus turns to you two, we'll head to the landing pad and you can pick us up."
He nodded and turned to the third clone, the one who was aiming his blaster at the door, and said, "Did you get that E'tad?"
The clone nodded and said, "Yup, you guys scram while I get to blow stuff up. Sounds like a good plan."
We loaded up on extra cells and grenades, and I set up in a good attack position, while Cap and Hett hid behind a pile of crates near the door. I heard blaster shots outside, and then, the chaos came.
Support (0 Archivists/0 Users/0 Total)
Objections
The Notepad

This isn't ready for "The Desk." I have some high-level thoughts before I even consider a thorough review.

The main article page needs reworked. Put the actual prose on subpages, get a decent infobox, and put some categories on it. I'm okay with a certain amount of idiosyncrasy on article layouts. I'm not okay with poor visual presentation.
The characters are unrelatable to the reader. They're video game NPCs with scarce personality or development. There needs to be something more to make them interesting.
The writing doesn't lay sufficient context to readers unfamiliar with the Republic Commando/Imperial Commando series, be they books or video games.
The pace is way too fast. I understand it's an action story, but there are places where the story could provide more character development and create a less frenetic flow.
Dialogue needs significant readability improvement.
This is not up to Featured Work standards and will require major overhaul—you should have known that based on the last couple of emails I sent you regarding this work. Atarumaster88 (

Talk page

) 22:22, February 17, 2014 (UTC)
Archivist Vote to Remove Nomination
Inactive for over a month, and has no real chance of earning FW status without a thorough rewrite. Atarumaster88 (

Talk page

) 16:53, March 18, 2014 (UTC)
Per Ataru. Needs a major overhaul, though it'd be nice to know if one was underway. GoodwoodDebating Society12,018 Edits 18:19, March 18, 2014 (UTC)
Comments
Disclaimer: I have corresponded with the author on this particular work in the past via email; none of these objections are particularly new. Atarumaster88 (

Talk page

) 22:23, February 17, 2014 (UTC)

Just so you know, Ataru, your second objection seems to have cut off at the end. - Brandon Rhea(talk) 22:28, February 17, 2014 (UTC)

I'm not inactive. There are no major changes that I plan on making to this book, I feel like it's at the best I can make it. Perhaps it's just that you dislike my writing style, or I'm not cut out to be an author. You can remove it if you like, nobody was paying attention to it anyway... Joev14, Respect the Green 04:46, March 20, 2014 (UTC)

(Comment moved out of Archivist voting section)
Joev, let's have some real talk, because I'm not going to just let a comment like this slide. You e-mailed me about this story several months ago. I liked the first chapter, but I told you that the rest of it needed serious work. You said that was how you wanted to write the story, and I let it go. Eventually you nominated it here, and you had to know that I was going to make the same points that I did via e-mail.
This is your second FWN. Neither has gone particularly well. I'm not sorry about that. SWF gives you the freedom to write what you want, how you want, and really without fear of much criticism—unless you directly ask for it. When you nominate a story for FWN, you ask for it. You say "I believe this story is one of the best on SWF." Can you look at a story like Phantom Rising or Legends of the Jedi: The Beast of Rutan or It Takes Only One and honestly tell me that Book I: Death Defiant is on the same level?
You've read some of my stuff, and you know it's not perfect. You know there's room for improvement in my stories because you've recommended a number of changes. There's room in the FWs to accommodate a variety of writing styles and even a certain variation in writing skill. You can write fairly short stories and have them FW'd—but only if they're good enough.
Don't take it personally, but aside from the first chapter of Book 1: Death Defiant, you haven't proven to me that you can write on that level. I believe you're a smart guy—your comments on my stories have been insightful and helpful. I really do appreciate your readership and feedback—we all know how hard it is to get your work noticed—but that's not going to stop me from doing my job as an Archivist or sway me into going easier on a story. I also think you have an incorrect mentality here, and it's causing problems. Your comment doesn't take any responsibility for the story's quality. You invoke a victim mentality ("nobody was paying attention to it anyway"), which tells me you want the attention and prestige, but then you turn around and pin the blame on others for it not getting much traction ("I feel like it's at the best I can make it", "Perhaps it's just that you dislike my writing style").
The point of getting Archivist feedback is to point out where your story can be improved, and I'm a kriffing sucker for doing this, but I'll go to considerable lengths to help someone who wants to get better and is willing to put the effort into fixing their stuff. I did that with you on this story up until the point where you said you didn't want to make any more major changes. Yeah, I'll turbolaser-critique a story, but I'm not doing it to make myself feel better. But when you make something like your Death Defiant page and claim that you can't improve it, I have no sympathy for that. One, I've told you how to improve it. Two, go look at any of the other FW pages. There's a lot of simple stuff you could fix that would make the page itself (not the story) not look like crap. Just formatting the page in a way that looks better would help your case a lot, but instead, you come back with "I feel like it's at the best I can make it" or "Maybe I'm not cut out to be an author." You clearly want to be an author. Are you willing to do the work and make the changes to become a good one?
You can write what you want pretty much however you want to on SWF, but if you want to win awards, you need to do it well and either be super-talented, or else motivated enough to improve, as well as humble enough to accept constructive criticism. I've seen a lot of writers on this wiki improve dramatically from where they were when they started, and it's because they were willing to take some feedback and improve. The ones who stagnate, well, let's just say they don't get very far. Choice is yours, but don't passive-aggressive blame the system, or the people behind it for the failures of your FWN. Atarumaster88 (Talk page) 15:51, March 20, 2014 (UTC)
You ought to give Ataru's thoughts on this matter serious consideration. He is absolutely dedicated to helping the community to improve its writing skills, and while I have sometimes disagreed with his criticisms, one cannot deny that they are honest, heartfelt, and aimed directly at helping an author to reexamine their work and develop better writing habits. He has demonstrated a willingness to go to great lengths to achieve results, working with people whenever they ask. If you swallow your pride and let him work with you, I guarantee that you will become a better writer for it. GoodwoodDebating Society12,018 Edits 20:30, March 20, 2014 (UTC)

Ataru helped me go from being mediocre to perfectly adequate. True story. - Brandon Rhea(talk) 20:34, March 20, 2014 (UTC)
Community content is available under
CC-BY-SA
unless otherwise noted.