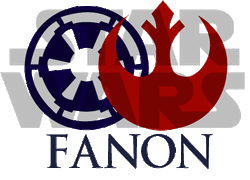 Welcome, ARC Commander Colt, to Star Wars Fanon, the Star Wars wiki of fan invention!
As a community, we strive to maintain a fun and creative atmosphere for all users while also maintaining a sense of encyclopedic quality that we can show off and be proud of. The best way to help with that is for you, our newest valued user, to begin creatively expressing yourself with your article writing, and to get involved with the community! Need some help with your writing? We're here to offer that help in the Writing Center! The Senate Hall can also be used for asking about anything relating to Star Wars Fanon, including help in following our policies.
You're probably saying, "How can I get involved?" There are a number of ways that you can do that, which are all listed below, so we encourage you to check those out! Very importantly, there are also a number of policies that you will need to be cognizant of and agree to follow so you can have the best time possible, and to help make our great wiki even greater!
Getting involved
Before you edit
Improvement
Important links:
Star Wars Fanon is not about administrators, nor is it about the people who have been given accolades or awards. This wiki is about you, the community member and the valued writer. So long as a sense of encyclopedic standard is maintained, this wiki will continue to be the absolute best it can be, especially once you get involved in our community!
Joining the community
Edit
Hey ARC Commander Colt! Sorry if this added message seems a bit overwhelming after the huge welcome message you just received, but what I wanted to say is important enough to re-emphasize it here. I wanted to make sure you were as aware as possible of the fantastic community we have here on the wiki. There is literally so much to do beyond just working on your own articles. I definitely don't want to sound like I'm suggesting you shouldn't work on your own articles, but there's a larger community out there too and we'd all love for you to get involved! If you have any questions about the community, which I strongly encourage you to participate in, don't hesitate to ask me. Thanks, and once again welcome to Star Wars Fanon! – -- Trak Nar (Talk) 23:01, May 6, 2011
Hey Colt,
I usually don't allow people to use my images, as they usually just take them without asking. Also they are meant for specific articles of mine. But as you're the first person who's actually asked me, feel free to use them. I appreciate your request rather than just taking them. Congrats to you for a good start on the Wiki and happy editing! King of the Dugs (Blab with me) 12:42, May 7, 2011 (UTC)
Thanks so much!--ARC Commander Colt (Talk) 12:49, May 7, 2011 (UTC)
Categories
Edit
Hey, just letting you know that you must categorize all your articles. If you have questions, just ask.-I'm the Chosen OneYou must see it... 00:25, May 8, 2011 (UTC)
Yes, I always forget to do that, but I know how. I will try to remember.--ARC Commander Colt (Talk) 00:43, May 8, 2011 (UTC)
Images from Wookieepedia
Edit
It's not a problem at all. It's really easy for me to quickly do it. You're very welcome. --SavageOpress1138 (Talk) 23:34, May 16, 2011 (UTC)
I just save the images from wookieepedia and then upload them here. It's no problem. If you need me to do more, I can, but I'm leaving for the night now. --SavageOpress1138 (Talk) 00:47, May 17, 2011 (UTC)
No problem. I have to leave and might not be back on the rest of the day, so if you need more today, ask, and I'll do it if I'm back or tomorrow. It really is not a big deal. Good luck. --SavageOpress1138 (Talk) 19:44, May 17, 2011 (UTC)
It's really not a bother. You don't really have to keep thanking me. If you really need two or three images a day, we'll soon blast past every other wiki on image count :). Again, it's no real trouble. --SavageOpress1138 (Talk) 23:48, May 17, 2011 (UTC)
I was just joking. It really doesn't matter. --SavageOpress1138 (Talk) 23:59, May 17, 2011 (UTC)
hey vod, i play CWA too, mind i be part of ur squad --Jacen Fett (Talk) 04:23, May 18, 2011 (UTC) my dudes name is Ayjae Bindo and CWA name is Ponda Lasercharge
U tried to add me in CWA --Jacen Fett (Talk) 23:22, May 18, 2011 (UTC)
if ur name is jacen feardreamer then i jus' added u --Jacen Fett (Talk) 23:46, May 18, 2011 (UTC)
Commander, sir, thank you... --Jacen Fett (Talk) 03:03, May 19, 2011 (UTC)
Re: More Images
Edit
Here you are:
There you are. Thanks --Savage1138 17:02, June 1, 2011 (UTC)
File:Zam slave outfit.jpg --Savage1138 17:12, June 1, 2011 (UTC)
Categories
Edit
I removed the "Humans" and "Males" categories because the "Clone troopers" category page is categorized with them, so they are redundant. Verify here. Subsequently, if you add a subcategory of "Clone troopers", you won't need the categories that subcat is categorized with.—TK-999 

(Rise of the Empire) 21:16, June 19, 2011 (UTC)
Helpfulness
Edit
Can you please create a blog post saying to mark the clone trooper pages like CT or CC to their nicknames. It will help guide new vistors like me. --65.13.155.21 19:52, June 22, 2011 (UTC)
Re:Images
Edit
I uploaded the images you wanted.-I'm the Chosen OneYou must see it... 04:50, June 24, 2011 (UTC)
Oh, yeah. Sorry I didn't. I was on vacation and didn't have internet when you asked. By the time I was back, ITCO had already done it. If you need any more, just ask me. --

SavageOpress1138

Help you I can, yes

00:41, June 27, 2011 (UTC)
RE: Clone Wars Adventures
Edit
Haha, I actually discovered that on accident. You go to the options feature in the toolbar at the top right of the game window, misc. options, and F10 hides... I don't remember exactly what it hides, but it's there. Anyways, once you have that checked off, just hit the F10 button and it will hide it.The Wise One. The ability to speak does not make you intelligent. 11:09, August 4, 2011 (UTC)
Special invitation for ARC Commander Colt!
Edit
Hey, you! Yes, you!
You're cordially invited to the 7th Annual Wiki Awards on the Star Wars Fanon Wiki! Come nominate, procrastinate, marinate, and pontificate over the best and brightest of the community's offerings with us! Sample the choicest works with your critical eye (monocle sold separately) and submit your own works for a chance to be enshrined in the annals of Star Wars Fanon history. You might write whatever you want to because it's fun, but getting shiny awards and bragging rights doesn't hurt either, right? We didn't think so.
Don't force yourself into exile, or look for alternative activities this winter. Whether your work is one of the myriad incarnations of Revan, a Sith Lord with a hard-to-pronounce name, or some random teenager's pet pittin, you'll find an entry where it belongs. (Editor's note: "Best Incarnation of Revan" and "Best Hard-To-Pronounce-Sith" did not make the categories list this year.) It's time to break out the ancient Sith armor and capes, the dress uniforms for every soldier, and something to catch the eye for every pretty lass. And did I mention our sponsors include Sarth's Darths, provider of the finest black capes in the galaxy? Join our star-crossed, er…star-studded collection of Star Wars Fanon administrators including Brandon Rhea, Goodwood, and Trak Nar as we celebrate the individualism and creativity on this wiki. And if you thought this announcement was cheesy, you ain't seen nothing yet. (Consider this a warning to those, like Fiolli, who are lactose intolerant.)
So fire up the hyperdrive, hope it doesn't catapult you a few millennia forwards or backwards in time, and head on over to the Seventh Wiki Awards. We'd love for you to nominate deserving works (including yours!) and help us choose the best entries for this year! We can't pick between all the entries without you! And if you see any other special snowflakes who need invited to the extravaganza, just slap this message on their talk page to spread some holiday cheer… or something.
So from two folks who've contributed far more at Wookieepedia than here, who habitually bring you either terrible puns or delicious pasta, please accept our sincerest invitation to the Seventh Wiki Awards. And remember, we're doing this all for the community, because that's what really matters on this wiki. Right? Yeah…
—Atarumaster88, 7WA cohost, general procrastinator, occasional writer, and constant instigator
—Fiolli, 7WA cohost, professor, silent contributor, and master of several fine culinary arts
Image uploading
Edit
Your recent image has been removed, as it lacked a proper source and copyright licensing template. If you got the image from Kate Upton's website, you need to link to the image there. If the site is NSFW, only link to the image, not to the site itself. Please be sure to actually link to where you had found the image, and please make sure to include a copyright licensing template. Thanks. Trak Nar Ramble on 05:33, January 9, 2013 (UTC)
Courtesy call
Edit
This note is to inform you that your article, Kayt Upten, has been nominated for deletion due to its overly-suggestive nature and content. Please feel free to weigh in on the discussion if you so wish. GoodwoodDebating Society12,018 Edits 05:52, January 10, 2013 (UTC)
Eighth Wiki Awards
Edit
Hello! You're receiving this message because you were an editor here on Star Wars Fanon in 2012. Did you know that we're currently holding our eighth annual Star Wars Fanon Wiki Awards? In the wiki awards, you can nominate your favorite articles—written by you or another user—for any of the categories on the page. If you're interested in bragging rights, head on over to the Eighth Wiki Awards and nominate your favorite articles through January 31st. If you have any questions, feel free to contact the award hosts, Brandon Rhea and Trak Nar. We look forward to seeing your nominees!
Appearances
Edit
Hi Colt, I wanted to ask you if your articles appear in some media (novels, novellas, short stories). If it is so, I could help you in the creation and in the ampliation of those pages, giving life to a partnership. Contact me if you are intersted ADMIRAL MIKE501 Yes, Sir! 07:33, December 28, 2013 (UTC)
Community content is available under
CC-BY-SA
unless otherwise noted.