Loyalty is the twenty-first installment in Sakaros's Untitled New Sith Wars series. As she works to mold her Sith disciples into an effective fighting force, Darth Alecto is chosen to mastermind a mission deep in Republic territory.
Opening Crawl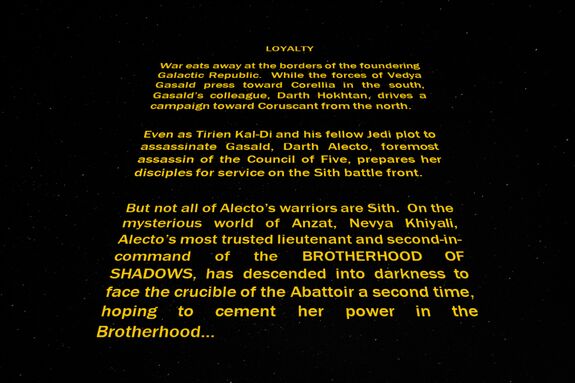 Excerpt
Source:  Loyalty
Attribution:  Sakaros

Spring rain thickened Lisal's air, and even indoors, fingers tugged collars and fluffed tunics. Of course, not all their sweat could be blamed on the humidity. Around the half-oval table, no one spoke, though many shot glances at the two thrones at the table's flat end, and the door beyond them. The tension built until it was unbearable; resolved though he was not to break it, Charri could not help but feel relieved when Jamayson said, "Ten minutes late…is that normal?"

A few of the others fidgeted, so it fell to Charri to say, "We wait on her pleasure."

Jamayson frowned, but the dam had ruptured, and Cozzette asked, "Will…will she bring the brain eaters with her?"

"I would not recommend calling them that in her hearing, let alone theirs. But the one time I met her, she had one of her Anzati with her, yes."

Several of the new Councilors stirred, and Charri caught snatches of remarks like 'threat to us all' and 'what do I tell my children?' Clearing his throat, he said, "I know this is the first time many of you have been with us, but I think you'll find your concerns are unfounded."

Half the stares that answered him were unconvinced, while most of the rest so desperately wanted to be. One or two Councilors put on blank, dead expressions to mask what Charri knew was in their minds; he had heard the whispers enough in Cundassa. Collaborator. Sellout. Court jester for the Queen of Assassins. They were only whispers—only a great fool would dare say such things aloud—but the thought and the whisper alone were enough to put at risk everything Charri and his colleagues had achieved for their homeworld and its people.

The door opened before anyone else could speak—a warning, a kindness to them all—and the Cundassa Police officer standing guard outside knelt. Monox Dacaliad was the first into the room—as Human as every Councilor, but from some world farther up the Perlemian, deep in the Empire. He wore the charcoal and purple uniform of an Imperial governor, but an expression better suited to a beleaguered bureaucrat. "Stand up!"

Charri stood, counting himself blessed that all his fellow Councilors did likewise, though some frowned at being commanded to their feet like schoolchildren being presented to the headmaster. Charri could not muster much indignation. Monox was not the greedy, grasping tyrant Republic propaganda made the Empire's planetary governors out to be, and much as Charri sometimes felt the pressure of serving a governor with considerable power to ruin his life, it could not have been any easier for Monox to govern Lisal, where his was not the final authority and his own life might be snatched away at any moment, for any reason or no reason at all.

With a final glance at the room, Monox knelt beside the smaller throne, sweeping the tasseled ends of his purple fascia off his thigh. Before the Councilors could even begin to follow his lead, three more beings came through the door.

One was surely an Anzat—gray-skinned, dark-eyed, wearing a sleeveless tunic that exposed his muscular arms, dreadlocks forming a curtain around his head except his face. The other man was enormous, head and shoulders taller than any other being in the room, and yet thinner than most of them; Charri thought he was sneering until he realized the creature had no lips to speak of, leaving his teeth permanently bared. Between that, his noseless nostrils, and the deep black eyes set in his face like holes onto an abyss, he might have been a skeleton reanimated by some dreadful sorcery…except that Charri could feel the intensity behind that black gaze. The Anzat had a blaster holstered on one hip and a pair of long knives at the other, but the skeletal being bore a lightsaber.

Small between her pair of monsters, the green-skinned redhead seemed gentle in comparison, dressed in her red-embroidered black longcoat; but for her tattoos, she might have had a soft, pleasant face. Charri knew her reputation, as did they all, but he had never seen evidence of it. Was that true power? To not have to demonstrate one's abilities, because her reputation spoke so eloquently alone?

Then again, her violet eyes spoke on her behalf. There was no sadism Charri could see, nor cruelty or madness…but no being would have called them kind.

Monox rose at a flick of her finger, though he kept his head bowed. Untouched, the taller throne slid back, then scooted itself in behind her as she sat, her skeleton and her Anzat standing on either side. She took her time studying each of them as Monox took his seat—the curve of the table allowed her to see every face—before ending with Charri and giving him a subtle nod. To the table at large, she said, "I'm Darth Alecto."

This work is copyrighted. The individual who uploaded this work asserts that this qualifies as fair use of the material under United States copyright law.
Segments
Appearances
Characters
Dramatis personae
Other characters
Creatures
Droid models
Events
Locations
Organizations and titles
Sentient species
Vehicles and vessels
Weapons and technology
Miscellanea
Plot Summary
Nevya Khiyali, Darth Alecto's second-in-command of the Brotherhood of Shadows and right hand woman, has returned to the Abattoir to achieve a higher rank and cement her status as Alecto's second.
On Lisal, Alecto's throneworld in the Mid Rim, dark side adepts Nillan Deys'lro and Fruuna complete one of Alecto's training challenges while Alecto herself meets with the advisory council of community leaders from around Lisal. Nevya, who successfully completed the sixth level of the Abattoir, has taken Zeff Rogu, Alecto's one Sith Acolyte, as a lover.
Darth Hokhtan contacts Alecto to advise her of Gasald's victory at the Battle of Eriadu and to give her an order from the Council of Five. Satir and Galera Solo, nephew and niece of Corellia's king, will be attending the Commenori Economic Roundtable with Jedi bodyguards, and the Council has commanded their deaths. Alecto starts training her disciples for the mission, eventually settling on herself, Zeff, Shrizzzqadl, and Dolre Thyle for the strike team.
Her plans are thrown into disarray when Darth Hokhtan's spymaster, Lord Rhutizh'chal'safan, arrives on Lisal with a warning. Naathree Basrasht, the Sith Lord from whom Alecto's disciple Megaera escaped months earlier, seeks revenge for Alecto thwarting her attempt to take Megaera back, and plans to strike Lisal in Alecto's absence, correctly predicting that Alecto will go on the kill team. Rhutizh also advises Alecto to make more contacts throughout the Empire, and that her isolation is becoming dangerous to her rather than protecting her.
Given the changed circumstances, Nevya persuaded Alecto to send her in command of the mission while Alecto herself stays on Lisal—as an anointed Sith Lord, Alecto can stand up to Basrasht and control the situation. Alecto agrees, instructing her disciples on setting a trap as Nevya and the Sith assassins journey to Commenor, where they infiltrate the Roundtable only to discover that one of the Jedi sent to guard the Solos is Nawsa Arodion, Jedi Master and member of the High Council.
The Sith assassins strike, and Nevya duels Nawsa to reach Galera while Dolre shapeshifts into disguise to assassinate Satir. Nevya succeeds in poisoning Galera, but is slain by Nawsa while Zeff and Shrizzzqadl flee. On Lisal, Alecto's disciples ambush and slaughter Basrasht's minions, while Alecto stops Basrasht from hurting Megaera. Basrasht states that she plans to leave Alecto without further conflict, but Alecto asks Megaera if she is lying; Megaera claims Basrasht plans to kill her, and as Basrasht attacks Megaera, Alecto kills her.
The Council of Five considers the Commenor operation a success, and Darth Hokhtan excuses Basrasht's death on the grounds of self-defense, but Alecto is devastated by the loss of Nevya. On Anzat, she reluctantly promotes Katrijan Naveskatsi to be her new second, but dedicates the Brotherhood to its new primary mission: vengeance on Nawsa Arodion.
Community content is available under
CC-BY-SA
unless otherwise noted.