Any user is allowed to reference the contents of this article in their work.
Although the addition, removal, or alteration of the content requires the permission of the author, the author allows any user to reference this article's content in their work. Check the talk page for any conditions the author has attached.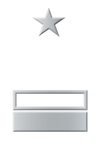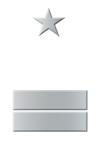 Lieutenant was a rank in the Imperial Army, the Grand Army of the Republic (GAR), and many other military services across the galaxy, including the Army, Navy, and Marine Corps of the Galactic Republic. Lieutenant was typically divided into two grades: for armies, this was typically "second lieutenant" (2nd Lt.) and "first lieutenant" (1st Lt.), and were almost always the lowest ranks of the officer corps; navies typically used "junior" and "senior" grades for lieutenant, often abbreviated to LTJG and LTSG, respectively, with junior and senior ranks following ensign within most rank structures.
Appearances
See also
Community content is available under
CC-BY-SA
unless otherwise noted.