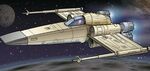 Parts of this article are no longer up to date.

Don't disrespect the Mandalorians.
—Kyram Beviin
Kyram Beviin, was a human male Mandalorian who lived during the Mandalorian Wars, the Jedi Civil War and the Dark Wars. Born on Taris, the offspring of Jedi Nayama Bindo the boy possessed a strong connection to the Force and when he was toddler he began Jedi training under his mother. In mid-3963 BBY, however, his mother was killed, he was forced to flee to the Lower City during the siege of his homeworld.

He eventually joined a faction of street urchins who called themselves the Nightingales taking the name Ayjae to disguise his origins and used his abilities to assist in their endeavors.
By 3959 BBY Ayjae and the Nightingales came across a former Mandalorian Neo-Crusader who extended an invitation to the group to join her off-world, while most refused Ayjae and one other accepted, leaving their ad-hoc family behind.
Trained from his inception into the Mandalorians as a warrior Ayjae took a quick liking to the culture and his new clan, receiving the new name Kyram Beviin after a Mandalorian war hero, respectively.
Biography
Edit
Early life (3969-3959 BBY)
Edit
Born in 3969 BBY and growing up on Taris, the boy who would become known as Kyram Beviin was the illegitimate son of Jedi Nayama Bindo. Born with a naturally strong connection to the Force, his mother waited until he was at the age of four to begin his training in the ways of the Jedi, however his training was tragically cut short when his mother was reported to have been killed during the Mandalorian siege of Taris in 3963 BBY.
Frightened and confused, the young boy took to the streets, joining the mass panic of the citizens of Taris, eventually finding himself in the Lower City where he spent weeks scavenging for food and sleeping on the street, wishing for nothing more than a way off-world. One day he came across a faction of street urchins who called themselves the Nightingales, he was offered a place among them by their leader Jory saying they "look after their own" to which he hesitantly accepted, dubbing himself "Ayjae" to disguise his origins.
In 3959 BBY, Ayjae and the Nightingales came across the former Mandalorian Neo-Crusader Kara Beviin in the Tarisian Undercity while searching for salvage and she extended an invitation to get off-world and join the Mandalorians, most of the Nightingales immediately declined but Ayjae and Derrica begrudgingly accepted having wanted off Taris for years, but not wanting to leave their friends. He was encourage to go by Jory and with heartfelt good-byes he and Derrica left with Kara.
Mandalorian (3959 BBY—)
Edit
Personality and traits
Edit
Physical appearance
Edit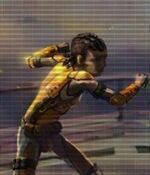 Beviin was a fairly dark-skinned man with full lips, dark hair and eyes that members of a variety of species including Twi'lek, Human, and Arkanian Offshoot found him attractive. Before hitting puberty and obtaining his muscular build he was often mistaken for a young girl as a child, this saying angered him whenever someone would call him one.
As Ayjae, he possessed shoulder-length hair that was often braided, however, not long after passing his verd'goten, and becoming a full Mandalorian, Beviin cut his hair. By 3950 BBY, he grew a goatee and would keep it groomed. Beviin would wear his helmet majority of the time, though this caused the young man's skin to fade from its original milky-brown complexion to a shade lighter.
Powers and abilities
Edit
Lightsaber training
Edit
Force abilities
Edit
Other abilities
Edit
Behind the scenes
Edit
Statement A.J. Bryant made while Ayjae/Kyram Beviin was in development:
Originally I couldn't make up my mind for a name so I went on Xbox Live and asked a friend for help, he suggested 'Kyram Beviin' due to my nature, then a few weeks later I thought of KotOR's Jolee Bindo and Ayjae was born. Also the name Ayjae originally came from my own nickname.
—A.J. "Jacen Fett" Bryant
.
Appearances
Edit
Notes and references
Edit