m

(2.2 Updated with new information)

 

Line 50:
Line 50:
 
 
 

Though she fought for Mali often, Kenza also frequently absented herself to defend {{l|Alpheridies}} against Imperial incursions; she took over command of the [[Alpheridies Rangers]] and helped them acquire support and materiel from the Republic Army. Kenza led the Rangers in many engagements, including the [[Attack on Soltis|attack on Soltis]], where she recruited [[Kami Trace|Kami]] and [[Myca Trace]] into the Jedi Order and acquired her nickname, "the Angel of Alpheridies".

 

Though she fought for Mali often, Kenza also frequently absented herself to defend {{l|Alpheridies}} against Imperial incursions; she took over command of the [[Alpheridies Rangers]] and helped them acquire support and materiel from the Republic Army. Kenza led the Rangers in many engagements, including the [[Attack on Soltis|attack on Soltis]], where she recruited [[Kami Trace|Kami]] and [[Myca Trace]] into the Jedi Order and acquired her nickname, "the Angel of Alpheridies".

 
+
 
+

Kenza returned to the [[Eighth Republic Expeditionary Fleet|Eighth Fleet]] in time to participate in the [[Battle of Phaeda]], where she slew another Vanguardian. However, she returned to Alpheridies to deal with reports of infrastructure failure and was absent from [[Operation Liberator]].

 
 
 

==Powers and Abilities==

 

==Powers and Abilities==
---
Latest revision as of 23:41, 26 September 2021

Kenza Rowkwani was a female Miraluka Jedi Knight during the New Sith Wars. She was renowned among her fellow Miraluka as one of the greatest of their number, and among Jedi and Sith for her strength in the Force and skill in battle. She frequently returned to her homeworld to defend her people against Imperial incursions; it was there that she earned her nickname, "the Angel of Alpheridies".
Biography
High Hopes
Kenza was apprenticed to a Jedi with a deliberative, patient, plan-based style, but she herself preferred to trust to the will of the Force and improvise plans step-by-step. In late 1,388 BBY or early 1,387 BBY she was Knighted by the Jedi High Council without having to face the Jedi Trials. Mali Darakhan believed the Jedi Council considered her—like Slejux Nissatak, Tirien Kal-Di, and Mali himself—the "hope of the next generation".
Kenza had some interaction with Khofin of Knylenn, First Secretary to the Supreme Chancellor, and disliked him intensely, believing him to be a man of style over substance.
Blind-Sided
At the end of 1,387 BBY, Kenza was head of a detachment of Jedi sent to Anaxes as an advance party: Supreme Chancellor Phnyong would be attending the graduation ball at the Republic Navy War College, and Republic Intelligence believed he was being targeted for assassination. After scouting out the location, Kenza was excited to meet Tirien Kal-Di and his Padawan Narasi Rican. She took Narasi dress shopping and the two chatted about their various adventures. On their way back to Anaxes Citadel, Kenza sensed conflict and traced it to Antifol Wolt and Gravo Fenjen; interrogating them, she discovered FastLane Couriers had been running supplies into Sith territory. She left them with the germ of an idea—cooperation with Republic Intelligence rather than a prison term—and hoped that Antifol would make calls which the Pols Anaxes Police could trace to other collaborators.
Kenza was startled and distraught when she heard that Antifol, rather than working with Intelligence or submitting to arrest, had committed suicide. She blamed herself for his death, though Tirien counseled her not to dwell on regret and Narasi tried to make her feel better. Kenza commiserated with Narasi in her distaste for Khofin.
The night of the ball, Kenza was on door duty, using her Force sight to read beings' intentions and screen for dark siders. She left her post when she sensed danger and death, arriving on the roof to find Dijir F'rat had been killed. Kenza was, however, in time to confront Second Besh and Fourth Mern. Fourth Mern attacked, overconfident, and Kenza killed him easily. She and Second Besh fought a second, more intense duel, but Kenza slew the second Vanguardian as well. When she returned to the ball, she was devastated to discover that Chancellor Phnyong had been poisoned, along with many of the guests. She tried to comfort Narasi, but when Narasi realized she could save Tirien, she helped keep Tirien stable until the cure took effect.
In the aftermath of the assassinations, Kenza took charge of the Jedi team and ordered the arrest of Khofin of Knylenn—Kuati Senator Oteyda Falt had smuggled another of the Vanguard into the ball. Like Narasi, she was startled when Tirien's connection to the Force was broken.
Up North
Mali Darakhan: "I thought you had Kenza up there now."
Elata Cazars: "We do have Kenza, and she's half the reason we haven't lost more Jedi than we have." ―Mali Darakhan and Elata Cazars discussing Kenza's contributions to the northern campaign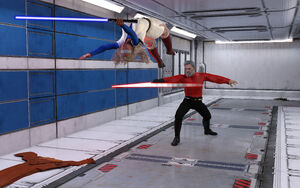 In the immediate aftermath of the Chancellor's assassination, Kenza was assigned to the northern campaign against Valin Aresh, where Elata Cazars credited her with saving the lives of several Jedi Knights. She acquired an astromech droid, W1-J8, which she nicknamed "Widget" and which she convinced shipboard mechanics to modify for her. In 1,386 BBY, Narasi had a vision of Kenza dueling Eviar Seldec, which came true later in the year when Kenza dueled and killed Seldec with a slash to the throat.
When Mali resumed command of his fleet after the liberation of Milagro, Kenza joined his group. The two worked well together, and Kenza conducted several missions past the Republic's lines, trying to protect non-Humans and determine the whereabouts of Aldayr Nikodon, who went missing in action at the Battle of Garqi. When Tirien, Raven Kaivalt, and several other Jedi planned to assassinate Vedya Gasald, Mali brought Kenza in on the secret, feeling he and Tirien could trust her. Kenza suggested deploying Captain Cynan Oraska's Republic Intelligence team to Tirien's aid.
Though she fought for Mali often, Kenza also frequently absented herself to defend Alpheridies against Imperial incursions; she took over command of the Alpheridies Rangers and helped them acquire support and materiel from the Republic Army. Kenza led the Rangers in many engagements, including the attack on Soltis, where she recruited Kami and Myca Trace into the Jedi Order and acquired her nickname, "the Angel of Alpheridies".
Kenza returned to the Eighth Fleet in time to participate in the Battle of Phaeda, where she slew another Vanguardian. However, she returned to Alpheridies to deal with reports of infrastructure failure and was absent from Operation Liberator.
Powers and Abilities
Even as a young Jedi Knight Kenza was a skillful practitioner of Ataru, able to kill a Vanguardian of the Second Rank in even combat and, at least briefly, to duel two Vanguardians simultaneously. She also bested Makashi master Eviar Seldec, despite Makashi's focus on lightsaber dueling and Seldec's decades of experience.
Kenza was proficient at a number of Force skills related to Ataru, including Force speed and Force-powered acrobatics. As a Miraluka, she had natural expertise at Force sight, though a Force user sufficiently skilled in Force cloak could avoid her sight.
Appearance and Personality
Kenza, like all Miraluka, had no eyes, and usually wore a mask or other wrap over her hollow eye sockets. She had long, naturally curly blond hair and tan skin. She sometimes wore the hood of her Jedi robe up to shadow her face. She had a lithe, fit build and carried a lightsaber with a blue blade.
Kenza had a naturally enthusiastic disposition and made friends quickly. She was quick to make jokes and keep things light-hearted even in stressful situations; she especially enjoyed making snarky jokes about her lack of eyes. She was modest about her own accomplishments, but followed the exploits of other well-known Jedi with interest. Kenza preferred to follow her instincts rather than devote extensive time to planning and, as she saw it, potentially miss a critical moment.
Appearances