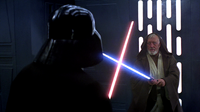 Your powers are weak, old man.
This infobox template is deprecated. Please use Character infobox instead.
Jeshua Kaleth
Biographical information
Homeworld
Born
Physical description
Species
Gender
Height

1.85 meters

Hair color

Black

Skin color

Light

Chronological and political information
Era(s)
Military service
Rank
Affiliation
Known masters
Notable relatives

Orion Kaleth (grandfather)
Xaga Terron: "Still your same talkative self, Jesh?"
Jeshua Kaleth: "..." ―Xaga Terron and Jeshua Kaleth
Jeshua Kaleth was a Force-sensitive Human male, considered to have been the last surviving member of the ancient Titan Force tradition, following the death of his grandfather, Orion Kaleth, during the Extant War. A childhood friend Xaga Terron after his initiation into the Brotherhood of Sicarius, Jeshua and Terron came back into contact when the latter sought to solicit the Kaleth family's help against the Savants of the Charon Dominion, due to their ability to wield the Primal Force.
Following the Ambush on Endor, Jeshua and his grandfather aided in the escape of Terron and the Animites, with Orion Kaleth perishing in order to enable the strike team's survival. Jeshua then allied with Xaga Terron, although openly declared that he held no particular loyalties to the other Logos or the galactic powers. Jeshua was known to have a particularly quiet and shy demeanor, a point that Terron often highlighted to his amusement.
Community content is available under
CC-BY-SA
unless otherwise noted.