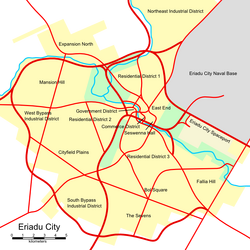 The Government District was an area of Eriadu City immediately west of the Commerce District. It featured all the government offices on Eriadu and three large plazas. The Governor-General B'Rhea used one of these squares along the border of the Commerce District as a place for a political rally during the Seswenna Security Crisis. A scuffle featuring Jedi Master Sidian Greystone and Jedi Knight Shalli combating some Human civilians ensued.
Appearances
Community content is available under
CC-BY-SA
unless otherwise noted.