Darthipedia
General information
Homepage
Founder(s)
Leader(s)

Administrators

Website type

Humor wiki

Registration

Optional

Other information
Owner(s)
Created by

Gonk

Date launched

August 10, 2007

Current status

582,970,628+ articles
Darthipedia, the Star Wars Humor Wiki was founded on August 10, 2007, by Gonk. Darthipedia currently claims to have over 582,970,628 articles, which would place it among the largest websites on the Internet, due to their Jax Pavan project. A handful of their articles are parodies of articles from Star Wars Fanon. The mascot of the Wiki is Darth Darth Binks, a play on the widely disliked character, Jar Jar Binks. Darthipedia is the Wiki for all Star Wars humor, and contains content that may not be suitable for all ages.
Parodied articles
Warning: Explicit content in the links that follow. A ‡ denotes a Featured Sithspawn, while a † marks an Article of Eviltude.
Notes and references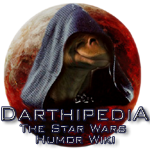 External links
Community content is available under
CC-BY-SA
unless otherwise noted.