{{Sith_character_infobox |imageBG= |image=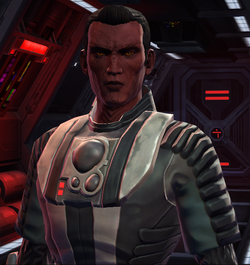 |name= Darth Atrion |hideb= |homeworld= Dromund Kaas |birth= 3,676 BBY |death= 211 BBY |hidep= |species=[[starwars:Zabrak|/Human Hybrid ]]
I break Republic necks in my sleep.
—Darth Atrion
Darth Atrion, birth name Kadus, was a male Sith Juggernaut active in the Cold War. His strict adherence to Sith philosophy often earned him titles such as the Merciless or the Ruthless.
Biography
Edit
Early life
Edit
Born to a Sith Pureblood father, and a human mother, Kadus was a hybrid - a fusion of specific traits from both species. After his mother passed away six years after his birth, he lived under the harsh rule of his father - a prominent Sith Lord. He was physically beaten and abused by his father until he was able to attend the Sith Academy on Korriban - and eventually grew a hatred for his father. Little did he know, that the beatings were not out of anger or contempt.
Tutelage in the Sith Academy
Edit
Get lost in the tombs yet, half-breed?
—
Vaal
When he joined the academy, he was placed in a small group of fellow students, under Overseer Sendan. He was mocked by Vaal, an arrogant acolyte who was in favor with Sendan. Kadus later remarked that Vaal - obviously being the most dangerous out of all of them - would be the first one to be killed. On his first trial, he encountered Vaal in the Tomb of Marka Ragnos, and brutally smashed his skull into a stone slab after besting him in a duel. Throughout the rest of his trials, he slowly killed off each of the remaining acolytes - if the tombs didn't already do so, until only Yrem remained. Viewing Yrem as a sniveling coward, he personally slew him in front of Sendan before venturing into the Tomb of Naga Sadow to retrieve his lightsaber.
Training as a Juggernaut
Edit
The Slaughter
Edit
Confronting the Father
Edit
War Rekindles
Edit
Duel with BitchFace
Edit
Personality and Traits
Edit
Powers and Abilities
Edit
Appearances
Edit
Behind the Scenes
Edit