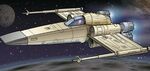 Parts of this article are no longer up to date.
Hana Beviin, was a female Korun, long-time friend and wife of Mandalorian Davrel Beviin. Hailing from the world of Haruun Kal, Hana was the illegitimate outcome of a night soent between her mother and smuggler Derrial Carrick. She had niece named Tani.
Biography
Edit
Early life
Edit
Born on Haruun Kal into the same Ghôsh as the venerable Jedi Master Mace Windu, her mother was a native of the planet while her father was Derrial Carrick, a drifter who 'took advantage' of her as the elder in the ghôsh put it. In truth, her father was an
Clone Wars
Edit
Rise of the Empire
Edit
Joining the Mandalorians
Edit
On the hunt
Edit
Fifty-fifty or I destroy every last gem."
"You wouldn't dare."
"Try me.
—Hana and Davrel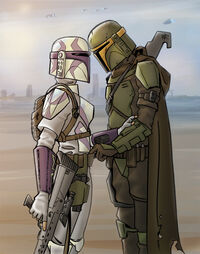 Marriage and mother
Edit
We've been through so much together. Will you marry me?"
"[…] Depends on how fast you can get this armor off me, ka'rta.
—Davrel and Hana, immediately after the
Skirmish on Io

Shortly after the death Vasha, Hana awoke from her trance much to Beviin's relief, he then proposed to her and she accepted. They married right there among the dead and she took his clan's name. Minutes later she revealed she was already a two months pregnant, ecstatic Davrel took her back to Mandalore for the celebration and they were welcomed fully into Clan Beviin.
Uninvited guest
Edit
I used to think of Mandalorians just as keepers of the Mandalore sector and 'pacifistic protectors' of Mandalore itself. But that's not how it is, we're warriors and soldiers of honor, donning the armor does not make you one of us, fighting for your loved ones, your home, and yourself does; attempting to make us into anything different will fail, my dear Imperial, people have tried. I suggest you leave now, Imp, because we are not going anywhere.
—Beviin, to
Davin Rand
She was present at her husband's funeral alongside her children, grandchildren, and friends from Davrel's past.
Personality and traits
Edit
One of Hana's most noticeable features were that her skin was far fairer than that of the majority of Korunnai, mostly likely because of her father's blood. She had brown eyes and dark brown hair.
Powers and abilities
Edit
Force abilities
Edit
Appearances
Edit
References
Edit
↑ 1.0 1.1 Underworld