Petty power struggles will not bring the galaxy peace, but I suppose you'd have to choose a side eventually, or risk losing everything.
—Cay, to
Juhani
, after the battle of Balanor
Cay, was name given to a Force-sensitive male humanoid and possible fringer. Thought to born beyond the Outer Rim Territories, a young boy was found by Droma, the captain of a YX-1980 freighter called the Grinning Heathen. Taken in by Kreya the ship's cook and became friends with one of the crewmembers, Juhani. Eventually he staged a coup against Droma when he refused to rescue a group of stranded Imperial stormtroopers, accidentally killing him in the process, and in doing so he gained ownership of the Heathen, renaming it the Outlander.
Years later, Cay became a begrudgingly became a stormtrooper in the 501st Legion under the Empire-in-exile after Darth Krayt's coup de'tat, and division of the empire.
By 135 ABY, he was offered a chance to become an Imperial Knight due to his Force-sensitivity and loyalty as a soldier of the Empire, an offer he gladly accepted.
Biography
Discovered
Little is known about the mysterious boy who became known by the name Cay except that he was approximately ten years old when he was discovered by Droma, captain of the Grinning Heathen and his crew aboard a derelict freighter in 120 ABY. The boy was found to be completely illiterate soon after discovery. The tattered uniform he was wearing bore the name "Cay" and having no recollection of who he was, he kept it.
He was later informally adopted by the Heathen' resident cook, Kreya and became fast friend's with a crewmember's daughter, a Cathar by the name of Juhani who helped teach him the basics of civil society.
Transition of ownership
As years went by, Cay studied culinary arts as his adoptivemother's assistant and by 127 ABY became the Heathen's new cook after his mother fell ill.
That same year after detecting a distress signal from a nearby Imperial transport, Cay, now seventeen lost confidence in Droma's decisions as captain and threatened to remove him from authority. A brief brawl ensued ending with Cay running the elder man through with a vibrodagger. He then ordered the pilot to approach the transport, unfortunately by the time the ship was evacuated only one passenger survived, a female stormtrooper. The stormtrooper revealed herself as Tes Anson of the 407th Stormtrooper Division, 117th Stormtrooper Platoon, an infantry unit with the Fel Empire, and that her platoon was sent to investigate a strange anomaly in the Outer Rim, but were attacked; disturbing visions caused immense paranoia among the crew, eventually causing few to commit suicide and others to kill. She only survived by locking herself in the cargo hold aftersending a distress signal.
Juhani suggested destroying the ship but Cay negated and ordered Anson be dropped off at the nearest Imperial outpost, and Droma's body be buried there as well. He then claimed ownership of the ship, and renamed it the Outlander.
Attempted smuggler
Two years later, in the early months of 130 ABY, Cay and his crew had taken up a job as a smuggling ship from a mysterious figure, and were told to meet with a buyer on Bordal, Cay took the job smuggling varying strains of spice. When they arrived at the rendezvous to meet their contact, Cay and his crew were almost immediately arrested by stormtroopers; Cay figured the job had been a set up. He and Juhani managed to escape the spaceport before being caught by two stormtroopers who called in their capture; the pair then jumped the troopers, stole their armor, and hid the bodies. Cay and Juhani simply lied about their escape and joined up with the troopers.
Soldier of the Empire-in-exile
I never knew I'd make a decent soldier.
—Cay, on becoming a stormtrooper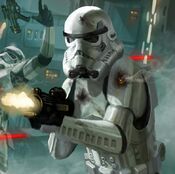 Meaning to go back to the spacer lifestyle, Cay decided against it after joining up with the 501st Legion and seeing his first action on Balanor, in which he was wounded an rewarded for his heroic actions. He also encouraged Juhani to stay as well, and the pair excelled as soldiers for the Fel Empire, briefly Darth Krayt's Empire and later the Empire-in-exile for a few years, garnering the attention and admiration of Imperial Knight Corr Feraa.
Imperial Knight
As of 135 ABY, Cay now a sergeant in the 501st, he commanded during the a skirmish on Gandrin which ended with victory for the Empire-in-exile. After his arrival on Bastion his presence was requested for an audience with Corr Feraa.
Personality and traits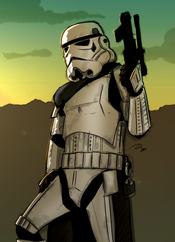 Cay looked like a Human in appearance, except that he had cyan eyes. Cay had tan skin, long and later shortened black hair.[2]
Cay possessed a strong will and valorous confidence when on the battlefield, a leader some believed him to be. Caring for those who fought beside him, he would willingly move into harm's way to protect them.[2] Occasionally he displayed a sarcastic, gung-ho and often times an apathetic outlook on the galaxy, only caring for those close to him.
Romances
Juhani
At the time of their first meeting, Cay wasn't sure what to think of the young Cathar, but he slowly started developing an attraction toward her over the years, a feeling she shared toward him, but did not admit it to each other. However, the attraction manifested itself in another form, loyalty; no matter what happened they supported each other, i.e. she stood by him when he turned on Captain Droma and when he decided to stay in the Imperial Army. In 135 ABY she admitted to him that she loved him, and was hurt when he couldn't form the same words, but she didn't leave his side.
Powers and abilities
Cay possessed a massive affinity with the Force and though untrained he was always instinctively able to draw upon the Force when needed.
Later he possessed an innate ability to develop Force bonds and the ability to jump a full eight meters from the ground into a hovering freighter with no training, but when recruited into the Imperial Knights he began learning and perfecting other innate abilities he possessd such as Animal friendship, the rare battle meditation, and Tutaminis when he blocked a lightsaber strike during a sparring session after dropping his lightsaber. He was also skilled in the use of Force push, healing, and Shatterpoint.
He was also skilled in the used of a lightsaber, specializing in Form V: Shien/Djem So, specifically the reverse grip.
Other skills
As a soldier Cay was skilled in an assortment of military weapons such as the standard E-11 blaster rife among others. He was also capable of using unarmed combat to defend himself.
Behind the scenes
Cay was created by A.J. Bryant during the development of Bryant's Star Wars short story, Cay's Tale.
Appearances
Sources
Notes and references
Community content is available under
CC-BY-SA
unless otherwise noted.