Any user is allowed to contribute to or elaborate on this article.
Additions to this article may be given by any user, but if you wish to modify a previous addition to better fit your ideas, you should ask about it on this article's talk page.

Any user is allowed to reference the contents of this article in their work.
Although the addition, removal, or alteration of the content requires the permission of the author, the author allows any user to reference this article's content in their work. Check the talk page for any conditions the author has attached.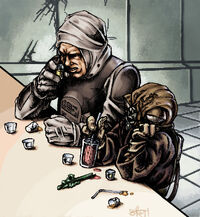 Bounty hunters were mercenaries for hire who would track down to capture or kill a specific target for a price. Most bounty hunters operated by an unspoken code of conduct, though some were known to do nearly anything for the right price. Although bounty hunters were often very well armed and very dangerous, there were exceptions, with some lacking any real skill at all; those who simply wished to get rich quick or sought an adventure.
Typically, bounty hunters worked alone, though some did form partnerships, whether it be through contract or mutual gain; an example of two long-standing partners would be Zuckuss and 4-LOM. However, partnering with a bounty hunter could be very dangerous business, as each would often put the other into the line of fire if it secured their own survival. This mutual grasp for survival would often lead to intense rivalries between bounty hunters if both parties survived.
Known bounty hunters
0-9
A
B
C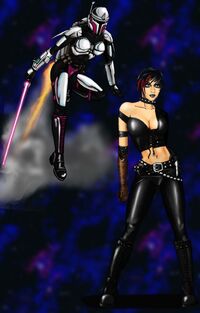 D
E
F
G
H
I
J
K
L
M
N
O
P
Q
R
S
T
U
V
W
X
Y
Z
Community content is available under
CC-BY-SA
unless otherwise noted.