The Battle of Arborfrost took place on the planet Arborfrost in the Southern Region of Caxapa Valley during the Clone Wars.
The Confederacy of Independent Star Systems had established a base of operations for the Arbol System on the planet. They had also established a small droid factory. Clone intelligence located the base, and sent word to Coruscant. Palpatine dispatched Lieutenant Artenon and the 403rd Legion to the planet to remove the Separatist presence from the planet. At first, Palpatine did not think sending a Jedi general would be necessary, for the base had little tactical command; not a single living officer was known to be present at the base. However, when a follow up report revealing that General Grievous was personally assembling a sizable fleet above the planet, the Elom Jedi Knight Ewan Thunk was dispatched as the commanding general in hopes that he would be able to apprehend Grievous.
The Republic Fleet met the Separatist cruisers in orbit over the planet.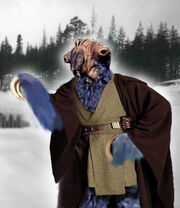 Behind the scenes
Caxapa is Russian for Sugar. Caxapa Valley is a reference to Sugar Bowl; where the featured picture of this article was taken.
Community content is available under
CC-BY-SA
unless otherwise noted.