Any user is allowed to reference the contents of this article in their work.
Although the addition, removal, or alteration of the content requires the permission of the author, the author allows any user to reference this article's content in their work. Check the talk page for any conditions the author has attached.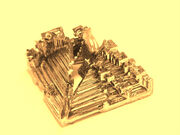 The Angland Wastes was a hot, dry and rocky region located on Tatooine. The area was located in Tusken Raider territory and travel through the region was light. Most beings did not travel through the area lightly. A pyramid ruin of unknown origin was located within the Angland Wastes, it was rumored to be a time measuring device, and sacrificial ground, that would perfectly align with the suns during their equinoxes. Among Sith circles, Sith architect and engineer Anubis Tu'sirius was credited with the creation of the Tatooinian landmark.
Behind the scenes
The Angland Wastes was created as a tribute to the The Essential Atlas Tatooine profile sketch. A portion of the sketch resembled the real-world European island Great Britain. This was created at the behest of friend, Trak Nar. Even though Angland Wastes may be perceived as a joke article, it is not a joke article.
Community content is available under
CC-BY-SA
unless otherwise noted.